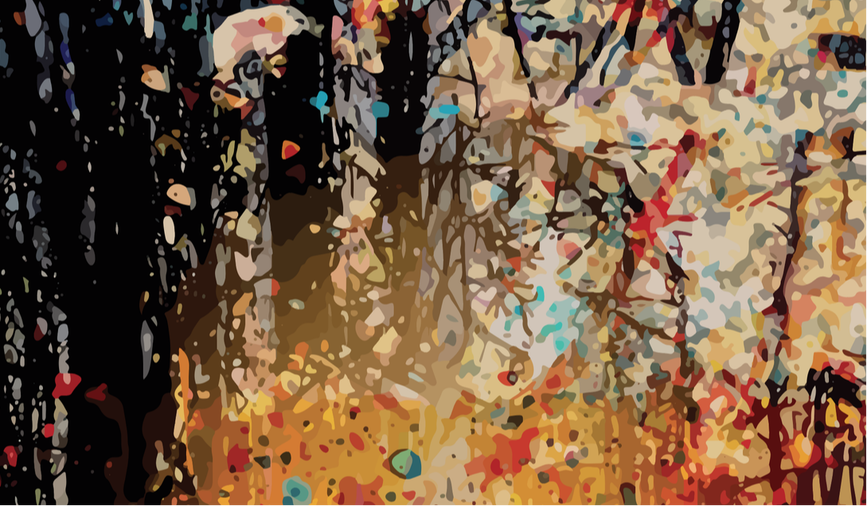 Laurie Bleecker Blayney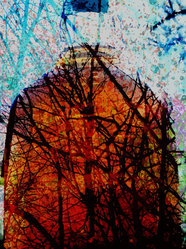 Color, shapes - even air - are made of particles co-existing and glancing off of each other. I find comfort that at the molecular level everything is equal. It is a privilege to play with that balance.

The palette is the saturated naturals I catalogue as Kentucky: lake water, October sky, brick, moss, creek-slate and liquor. Newest paintings in acrylic and oil are distortions through bottles and glasses of bourbon and other spirits. Kentuckians are proud of our Bourbon; it is one of our flavors.

The digitally based art, mixies nature and figure photography with photos of paint - smudging the boundary of the real and the concocted. This new media i is part paint and photo, control and random.


---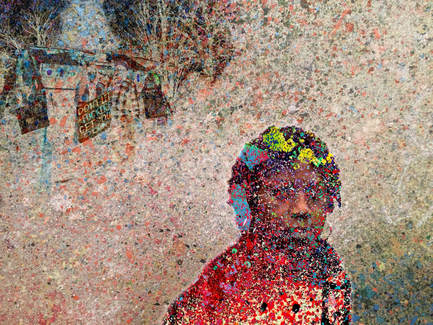 FALSE LIGHT
The Protest Series
Hyland Gallery
721 E. Washington Louisville, KY 40202
September 1 - November 28These pieces are my response to the false light cast on the marches, protests and solidarity gatherings that I attended over the past few years. By focusing on shock moments, I feel that the media cheated the viewing-at-home public from an accurate account of these events.
I utilize digital information as an art supply. Images of crowds and individuals are meshed with images of my splattered paint and plant-life to reflect what I witnessed: a resilient side of humanity and an organic rise of a genuine citizenry that cannot be categorized.
​All of the pieces are dye-sublimation prints on aluminum. I added my own light.



---
ContactLaurie Blayney
502-295-1853Kentucky Street Studio522 E. Kentucky StreetLouisville 40203Studio Hours: By appointment onlylaurie@bleeckerblayney.com

Recent Projects and Cooperations
2016
LVA Gala
Unmasked
Louisville Visual Art

Blues and Bourbon
Cook Studio and Gallery
Louisville , KY

Horizons: Contemporary Landscapes
International Show
Community Art Center, Danville KY

Past
Artist-In-Residence
Bellarmine University * Studio 2000 * Metro Parks * Bardstown Public Schools

Equally Yours Billboard Project
Frankfort Ave

Historical Mural Project
Grant work through The Kentucky Arts Council and Norton Foundation
for the Boys and Girls Clubs Inc/ Shawnee and Portland Libraries

Dinnerworks
Louisville Visual Art Association